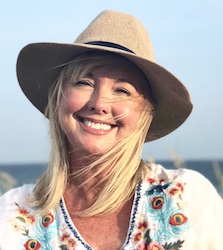 Thelma was previously an advocate for Endometriosis.net.
At the age of 31 and childless, Thelma began having abdominal pains much worse than those during her menstrual cycle. Her OB/GYN's examination revealed a mass and surgery was scheduled. At each consecutive checkup, the mass had grown just as Thelma's fears had. Thelma was adopted as an infant and having a biological child was a dream she carried for many years. This unidentified mass created doubt that giving birth may never happen. After a laparoscopy, which quickly became a laparotomy, the grapefruit mass was removed and affected organs were cleaned. The diagnosis was endometriosis. Left with one ovary, one fallopian tube and a suspended uterus, pregnancy was a possibility but certainly not a guarantee.
Sixteen months later, Thelma gave birth to a beautiful, perfect daughter. 24 months later, a handsome, perfect son was born. While enjoying every moment of mothering (well, almost), Thelma continued her career as an English teacher and then as a counselor. After 37 years, she has now decided to retire, counseling part time and enjoying family, especially her 11 month old granddaughter and newborn grandson. Other than family and her spiritual commitments, decorating, gardening, cooking, traveling, and entertaining are her passions. Her two Labrador Retrievers and her small white Shichon are now an important part of her family.
Thelma loves people. She has dedicated her life to serving others. She knows the fears, doubts, and frustrations of endometriosis.
Click here to read all of Thelma's articles on Endometriosis.net.