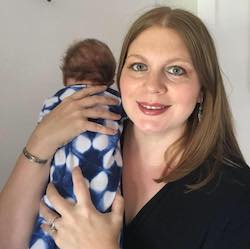 Joanie was previously an advocate on Endometriosis.net.
Joanie Cox-Henry is a journalist and endo warrior who resides in Boca Raton, Florida. With more than 17 years of experience as a professional writer, Joanie has interviewed everyone from Jack Black, Kelly Osbourne and Joan Jett to Matt Damon, Adam Sandler, and Donald and Melania Trump. She regularly contributes to Endometriosis Foundation of America's blog, The Blossom, Today Parenting, South Florida Parenting magazine, Delray Newspaper and many others including publishing her own parenting blog, Motherloading.com. Joanie is a wife, a mother to two young miracle sons and continues to battle endometriosis on a daily basis. While she lost an ovary to the disease in 2013, she has gained a sense of hope by sharing her story and discovering hundreds of other women who also share this painful disease. A relentless dreamer with an empathic soul, Joanie runs on coffee and quips, never turns down a trip to the beach and hopes that one day, doctors find a cure to end endo.
Click here to read all of Joanie's articles on Endometriosis.net.