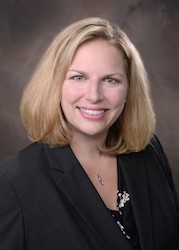 Andrea is 38 and lives in Lubbock, Texas. Andrea was diagnosed with stage 4 endometriosis at the age of 20. She has dealt with this disease her entire adult life and wants to share with others how she has coped (sometimes poorly) and what treatments she's tried. Additionally, sometimes it can help to just share your experiences with others who are going through the same issues and who grapple with the same decisions this disease presents us with – infertility, surgery, hysterectomy, drugs, etc.
Andrea works as an attorney and is a Partner at her firm. Andrea concentrates her law practice in the areas of elder law, estate planning, probate, guardianship and special needs law. Originally from upstate New York, she earned her undergraduate degree (B.A.) in English in 2002, Juris Doctor (J.D.) with a health law concentration in 2005, and Master of Public Health (MPH) in 2006 from the University at Buffalo. She is admitted to the state bars of New York and Texas, is a VA Accredited Attorney, a certified Guardianship attorney, a member of the Lubbock Area Bar Association, Lubbock County Women Lawyers Association, the South Plains Trust and Estates Council, and the National Academy of Elder Law Attorneys (NAELA).
Andrea is an active member of the Lubbock Chamber of Commerce and is participating in Leadership Lubbock 2018. In her spare time, she enjoys traveling, volunteering with Junior League Lubbock and spending time with her husband, Paul, and their dog, Butter.
Click here to read all of Andrea's articles on Endometriosis.net.